K 2022 | The wonderful review of Huarong exhibition
2022-11-08 15:45:47
---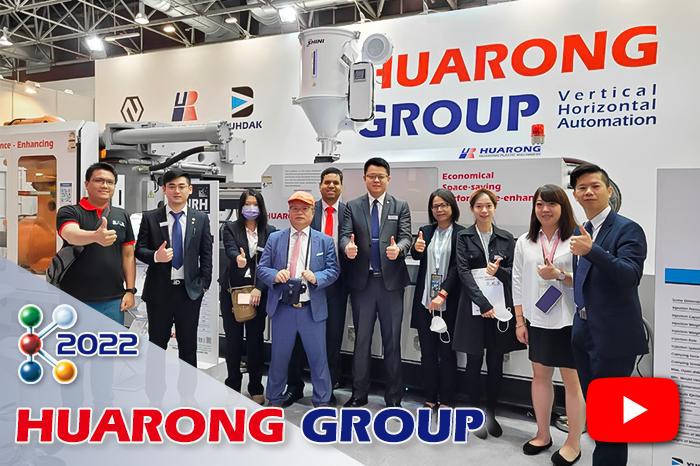 ---
The eight-day physical exhibition of K Show 2022 attracted 176,000 professional visitors from 157 countries to Düsseldorf to find relevant industry events. The hot topic of this year's K show was "circular economy", "climate protection " and "digitalization".
Huarong exhibited "medium/large" two-platen injection molding machine and "rotary" vertical injection molding machine. For the manufacture of injection molding machines, regardless of design or application, we are committed to providing customers with machine that will create value, and vow to be a good partner for customer on injection molding. During the show, many customers came to visit Huarong, and the on-site interaction was lively. Many wonderful scenes and content will be shared in the article.
Webinar|GO GREEN with Taiwan's Smart Plastic & Rubber Machinery
With the theme of Circular economy, Climate Protection and Digitalization, Huarong released new products through pre-recorded videos at K 2022:
●Optimized two-platen injection molding machine
●Composited injection blow molding machine
●Intelligent injection molding machine
Chairman Roy Xiao said that the so-called intelligent equipment means that the equipment must be able to self-detect and self-interpret, and it must be able to reasonably output production data. Combined with the "MES Injection Management Platform (HFM)" system planned by the group, it can not only help users to accurately grasp the interaction of the networked platform across the factory area, and the single connection equipment can self-interpret whether there is a slight abnormality in the process, and even send Line or Telegram to the user immediately, so as to grasp the production information in real time, and make real-time processing and judgment.
Product|Optimized two-platen injection molding machine, Composited injection blow molding machine
"Optimize material utilization, make maintenance and maintenance easier, and save production space effectively"
For the two-platen injection molding machine, Huarong redesigned the rationality of the machine, optimized the use of materials and reduced by 35%; redesigned the Internally-defined sliding die holder(patent M578643), with high load and double-sided guiding functions, making maintenance easy and taking into account safety and convenience; four sets of direct pressure clamping cylinders are optimized to make the pulling force of the two-platen injection molding machine more even. Euipped with retractable tie-bar function(optional), which can quickly release the tie-bar with one key, so that the loading and unloading of the mold is no longer limited.
"Occupied a small workshop space and done the whole in one machine"
New product, composited injection blow molding machine, injection, heating and blowing do simultaneously. Equips with a four-station servo rotary table structure, the rotation position reproducibility is up to 99.9%; compared with the separated operation of injection and blow molding into two machines, not only can the production be completed with one machine, but also replace the injection product by changing the mold core, instead of replacing the whole molds, which reduces the mold manufacturing cost by 80%, and reduces the mold change time by 60%, meeting the needs of customized, multi-style but small-volume production of plastic products.
Webinar site|Automated production case of smart plastic manufacturing
At the K Show webinar, the host asked Huarong about smart manufacturing.
As for how to help customers realize the automatic production of samrt plastic manufacturing, let us explore the real case of how Huarong solves problems for customers from the video.
K 2022|Crowds of people, wonderful scene of Huarong booth
K 2022, every day there is a continuous stream of visitors, and it was successfully concluded on October 26th. We are happy to welcome every visitor and friend. At the scene, Huarong exhibited two types of injection molding machines: horizontal and vertical, and equipped with Huarong's newly developed single connection smart platform to help customers better manage their injection molding machines.
The scene capture comes from the Huarong team in Germany, many friends or customers from afar have interacted very enthusiastically at the Huarong booth. Come and see if you or your friends are in the video.