2022 K Show - Huarong will meet you soon!
2022-10-13 11:36:54
---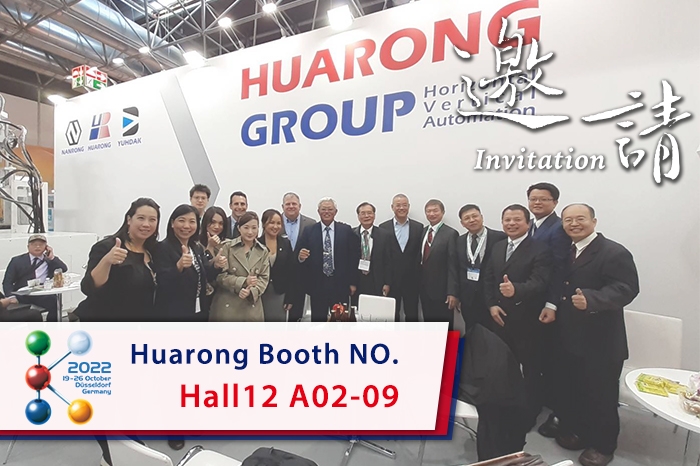 ---
With the successful conclusion of TaipeiPLAS, the next is K Show, which is held every three years and is the most iconic trade fair for plastic and rubber. It will last for 8 days and will be held in the Messe Düsseldorf from October 19th to 26th, 2022.
In this 2022 K Show, the trending topics on the 2019 K Show, such as: sustainability, resource savings, circular economy and digitalisation, were formally proposed for discussion, becoming a hot topic to solve the current challenges of our day and age. Coupled with the Special Show entitled "Plastics shape the future", It makes people imagine more infinite possibilities for the development of the rubber and plastics industry.
Huarong will exhibit at the K Show, exhibiting "Medium and Large Two-platen Injection Molding Machine (NRH850)" and "Vertical Injection Molding Machine (YR-60-3R2)", which will be equipped with a single connection management platform to upgrade the injection molding machine to intelligent equipment, allowing users to fully grasp the production progress management through the digitalisation.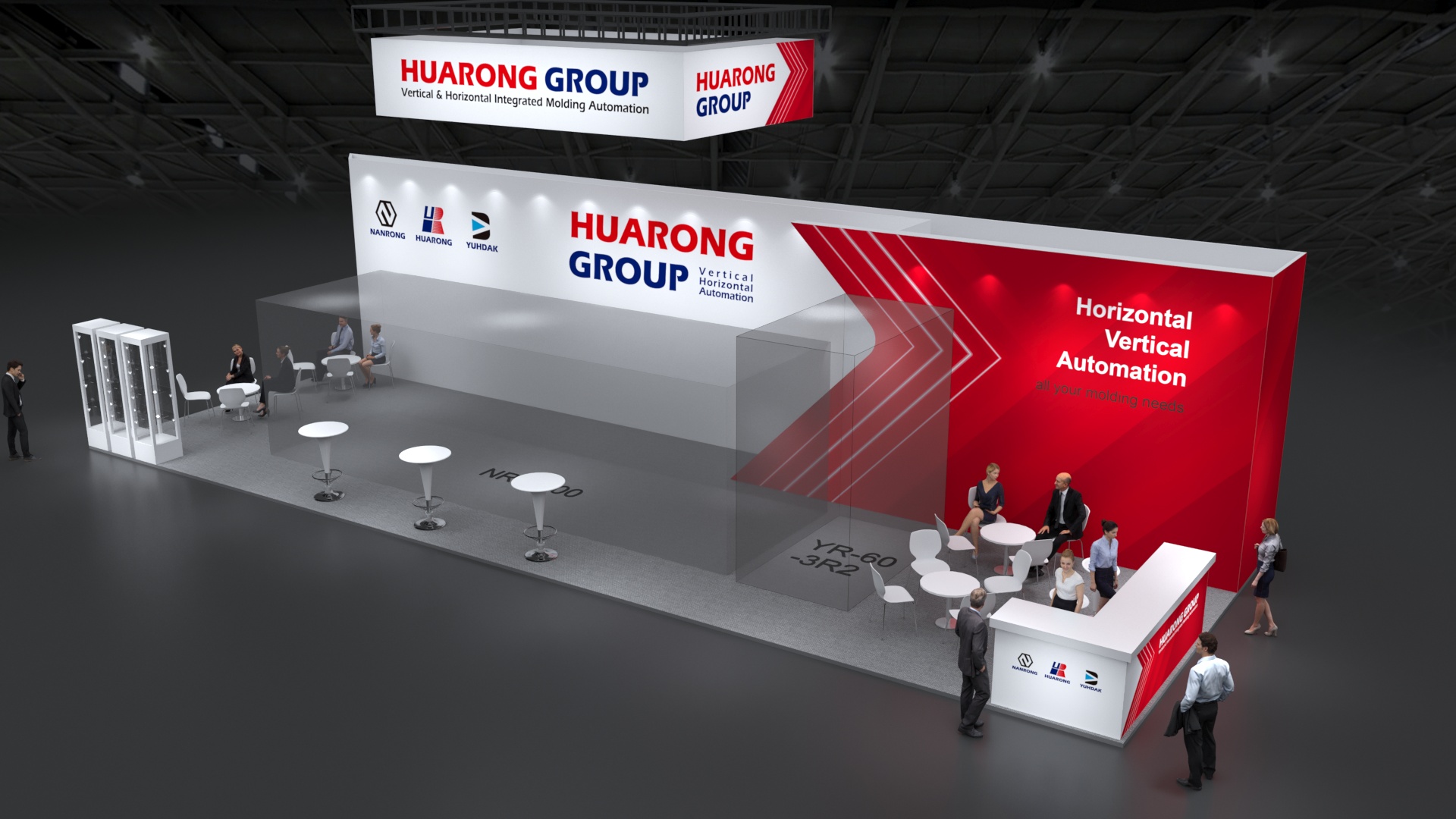 Huarong horizontal / vertical injection molding machine, intelligent equipment that creates value with you
1. New Two-Platen Injection Molding Machine: NRH Series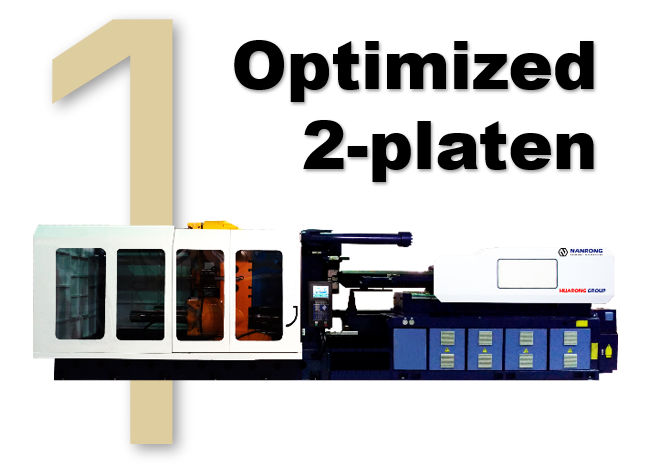 Machine: Two-platen injection molding machine
Model: NRH850
Clamping force: 850 tons
In addition to the advantages of the original two-platen injection molding machine, such as small clamping stroke and long mold opening stroke, machine size is 20% less of footprint compare with toggle type injection molding machine under the same specification, which can improve the utilization rate of space. The opening stroke can be increased according to the product requirement.
HUARONG has optimized the bearing support tie-bar structure, when the 4 direct-pressure hydraulic cylinders are clamped at high pressure, the machine will not shake. Not only because the machine is stable and does not shake under high pressure clamping, which reduces the probability of tie-bar breakage and saves the cost of machine maintenance. It is also equipped with exclusive patent such as Internally-defined sliding die holder (M578643) and Suspended tie-bar bearing die holder (patent is under review), making the machine more reasonable and stable.
2. Multiple Embedded Rotary Injection Molding Machine: YR Series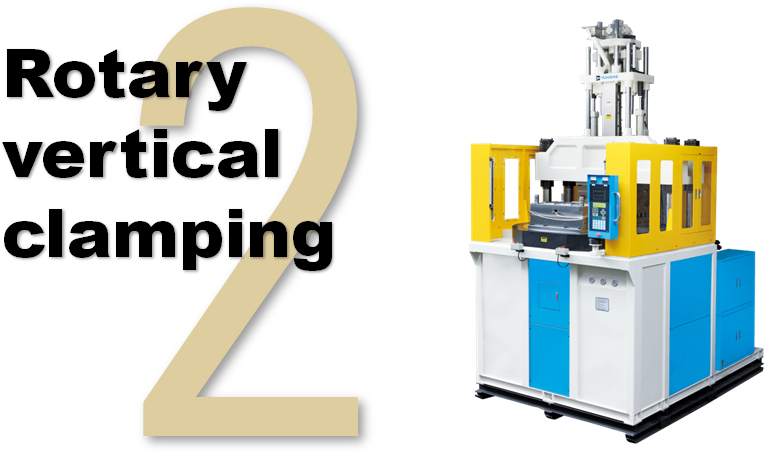 Machine: Multiple Embedded Rotary Injection Molding Machine
Model: YR-60-3R2
Clamping force: 60 tons
Vertical clamping with vertical injection.
Rotary table oscillate 180°, rotate back / forth for easy loading and finished parts pick out, to increase productivity.
Rotary table with location pin, accurate positioning for mold alignment and automation.
Robot interface capability for complete automation.
Standardized with 2-station function, and capable for 3-station or 4-station function & automation linkup for advanced efficiency.
Standardized with 3-columns clamp, and available for 4-columns clamping upon request.
3. Single connection management platform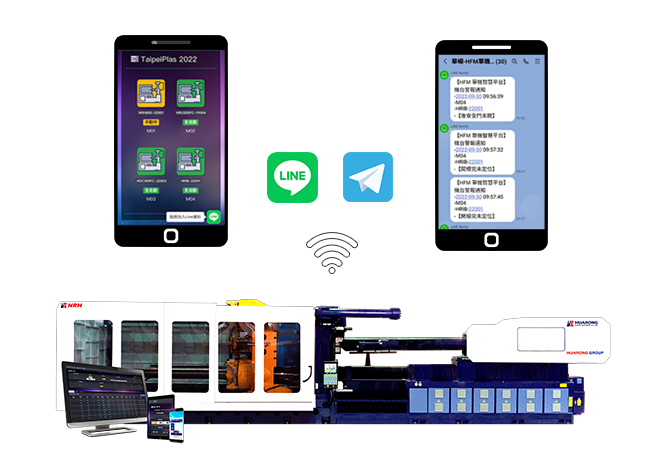 Smart manufacturing: An injection molding machine that can message you:
Use the mobile phone to scan the QR code on the machine to enter the platform. The single connection version can record and collect each production data, export it as a CSV report, and then export it to the ERP system. The digitization process is clear at a glance, saving you the time to manually create data.
When the machine detects any slight abnormality in the data, it will actively alert and immediately notify the user through communication app such as Line or Telegram, so that the machine can be upgraded from passive maintenance to active maintenance, and early response can help reduce defective products and the risk of machine damage.
Chairman Roy Xiao said that the so-called intelligent equipment means that the equipment must be able to self-detect and self-interpret, and it must be able to reasonably output production data. Combined with the "MES Injection Management Platform (HFM)" system planned by Huarong, it help users to accurately grasp the interaction of the networked platform across the factory area, and to grasp the production information in real time, and make real-time processing and judgment.
On October 19th, Messe Düsseldorf, Huarong booth HALL12 A02-09
Floor plan of K Show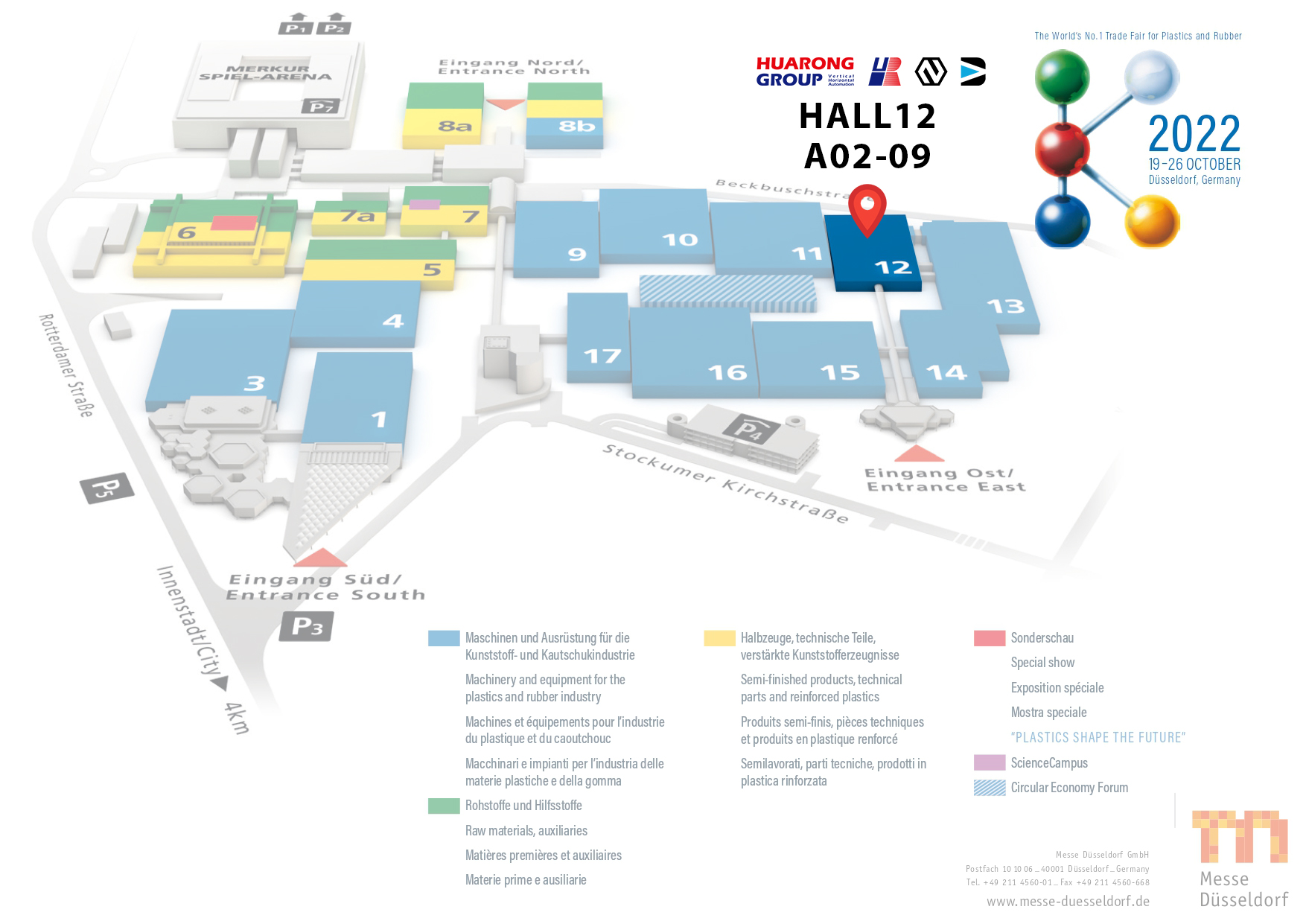 K Show booth information:
2022 Huarong in K Show
Date: 2022-10-19 ~ 10-26
Booth No: HALL12 A02-09
Messe Düsseldorf
Best regards, Ryan Shiao
Tel: +886-0910746629
In Germany: +49-15223853804