Huarong intelligent equipment, injection molding machine process can instantly "Line"
2022-09-30 10:22:12
---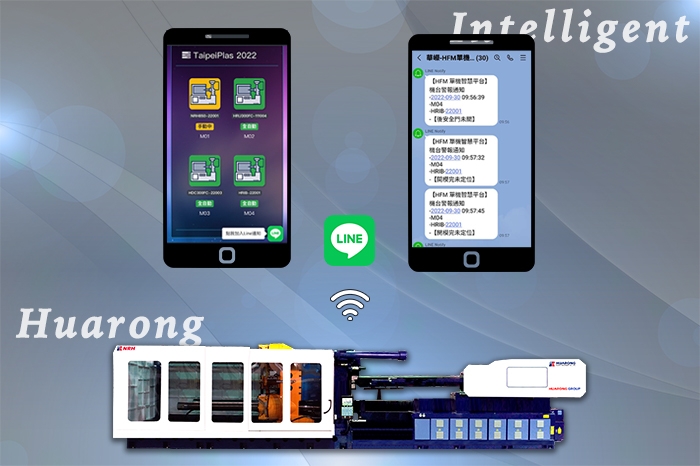 ---
"TaipeiPLAS" will be grandly exhibited at Nangang Exhibition Hall 1 from September 27th to October 1st. One of them, Huarong Group, will also exhibit medium and large two-platen injection machines this time, which can be applied to two-color, multi-color and various intelligent injection machine equipment, with full visibility.
In recent years, the global market has been deeply affected by the Covid-19. Against the trend, Huarong Group released a Composited Injection Blow Molding Machine at the end of last year, which attracted the attention of many customers. This year, at TaipeiPLAS, it also announced a variety of stand-alone intelligent equipment.
Roy Xiao, chairman of the group, emphasized that "Quality-Innovation & Industry-Alliance" has always been the central idea of Huarong. Upholding this concept, it has successively developed various horizontal and vertical injection molding machine related equipment, which is to help customers obtain greater profits through industrial equipment.

Chairman Roy Xiao said that the so-called intelligent equipment means that the equipment must be able to self-detect and self-interpret, and it must be able to reasonably output production data. Combined with the "MES Injection Management Platform (HFM)" system planned by the group, it can not only help users to accurately grasp the interaction of the networked platform across the factory area, and the stand-alone equipment can self-interpret whether there is a slight abnormality in the process, and even send a line to the user immediately, so as to grasp the production information in real time, and make real-time processing and judgment.
Chairman Roy Xiao pointed out that the co-injection molding machine has always been a product that Huarong is proud of. Over the years, the group has deeply studied the technical soft power and developed the most reasonable two-platen injection molding machine NRH series for medium and large plastic injection molding machines. Compared with the toggle type injection molding machine of the same tonnage, the machine length of the two-platen injection molding machine is shortened by about 15%, which can improve the utilization rate of factory space. The long opening stroke of the two-platen injection molding machine is suitable for the production of large or deep barrel plastic products.
In addition to the advantages of the two-platen injection molding machine itself, Huarong has optimized the bearing support tie-bar structure, so that the machine is stable under high pressure clamping, and the machine will not shake, which reduces the probability of tie-bar breakage and saves machine maintenance costs.
He emphasized that at this TaipeiPLAS exhibition, there will be a variety of stand-alone intelligent equipment that meets the mainstream market. Whether it is a 2,000-ton large injection molding machine, or a servo rotary table positioning with multi-shot needs, it can meet the needs of various users of dual-shot and multi-shot.
Economic Daily News - Zhang Jie