2022 Taipei International Plastics & Rubber Industry Show (TaipeiPLAS) - Huarong will meet you soon!
2022-09-14 10:50:09
---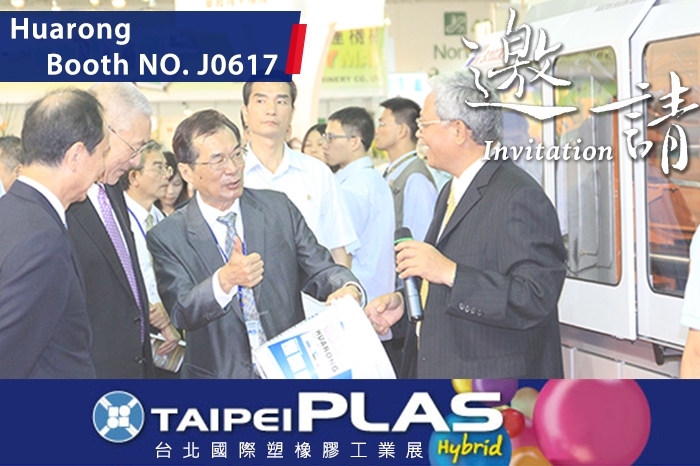 ---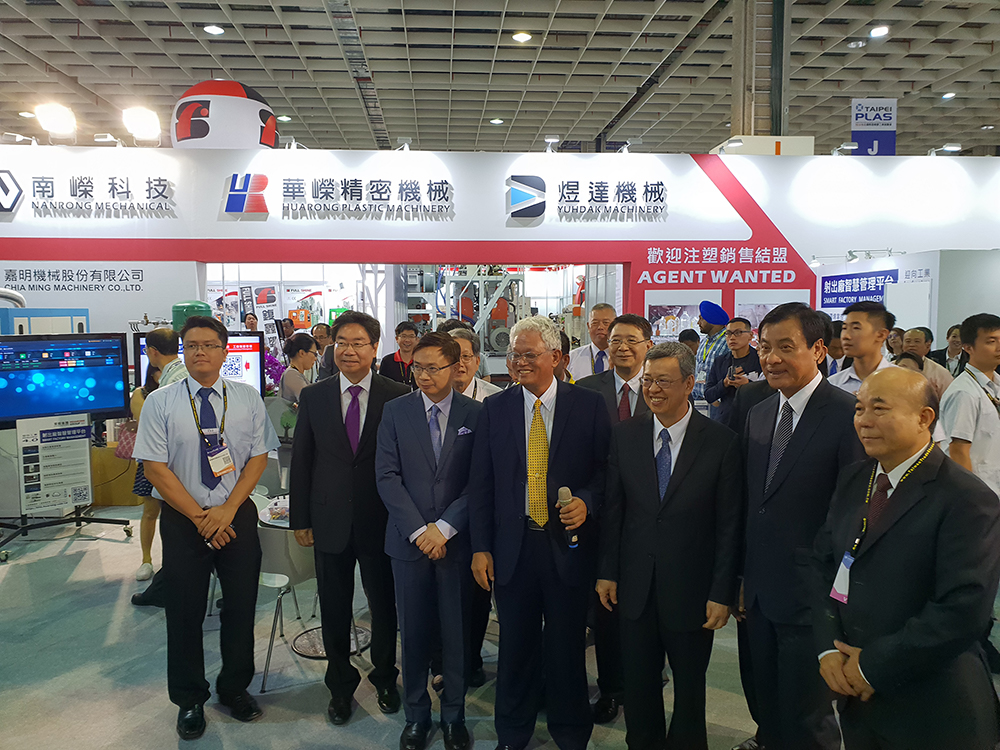 TaipeiPLAS 2022 will be held at Taipei Nangang Exhibition Center Hall 1 from September 27 to October 1 with four themes: smart manufacturing, material and shoemaking innovation, sustainable recycling, and innovative applications. This year, TaipeiPLAS will accommodate 300 exhibitors in 1,300 booths, hailed as an outstanding flagship trade show of the year in Asia for the plastics, rubber and shoemaking industry.
Huarong will make a grand attendance at the TaipeiPLAS. In line with Industry 4.0 and with industrial upgrading, Huarong will showcase the "combination of smart and injection molding machines", "New two-platen injection molding machine" and "innovative applications on injection molding machines" at TaipeiPLAS in three aspects: smart manufacturing, rational design, and innovative application. Like Huarong's unchanging core spirit, Quality-Innovation & Industry-Alliance.
6 Highlights at a time, Booth No. J0617 at TaipeiPLAS
1. New Two-Platen Injection Molding Machine: NRH Series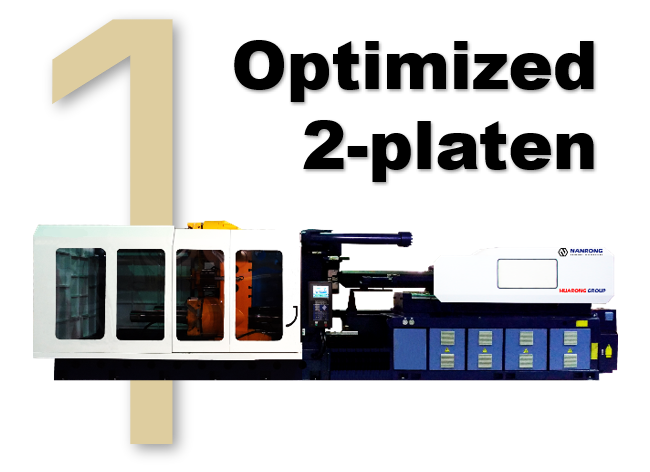 Machine: Two-platen injection molding machine
Model: NRH850
Clamping force: 850 tons
In addition to the advantages of the original two-platen injection molding machine, such as small clamping stroke and long mold opening stroke, machine size is 20% less of footprint compare with toggle type injection molding machine under the same specification, which can improve the utilization rate of space. The opening stroke can be increased according to the product requirement.
HUARONG has optimized the bearing support tie-bar structure, when the 4 direct-pressure hydraulic cylinders are clamped at high pressure, the machine will not shake. Not only because the machine is stable and does not shake under high pressure clamping, which reduces the probability of tie-bar breakage and saves the cost of machine maintenance. It is also equipped with exclusive patent such as Internally-defined sliding die holder (M578643) and Suspended tie-bar bearing die holder (patent is under review), making the machine more reasonable and stable.
2. Dual Injection Molding Machine: HDC Series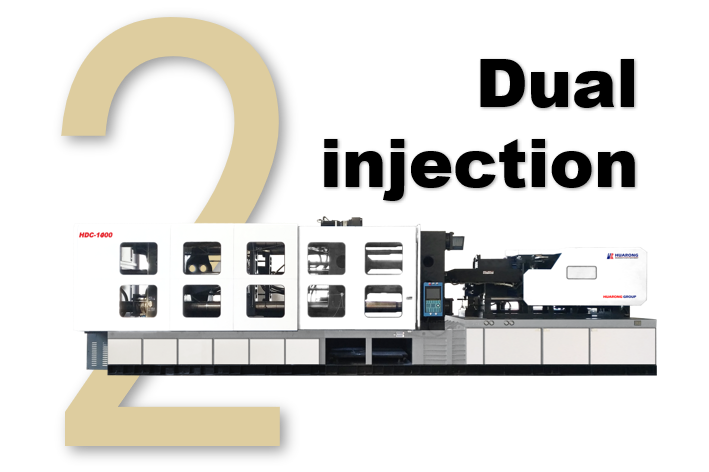 Machine: Dual injection molding machine
Model: HDC300
Clamping force: 300 tons
Patented rotary table structure (M391464), the rotary table and platen fit better, not only the rotary table rotates smoothly, but also prevents the mold from tilting and falling. The double hydraulic cylinder rotation system is confirmed by mechanical, electrical and hydraulic triple positioning, the mold is highly protected, and the positioning of forward or reverse rotation is 100%.
Optional for rotary shaft & rotary table sharing, the two modules are interchangeable, which are more flexible to match the mold, and produce more diversified products. The shaft of rotation function is suitable for products that wrap around and penetrate through. The mold core needs to change the position, but the mold does not rotate. Examples: toothbrushes, handles…etc.
The Dual injection molding machine can be equipped with a servo rotary table according to different production needs, so that the rotary table operates smoothly, with accurate positioning and no speed buffer problems. The ejector system is equipped with a sensor to ensure that the mold core is reset.
3. U series Advantage Injection Molding Machine: HRU Series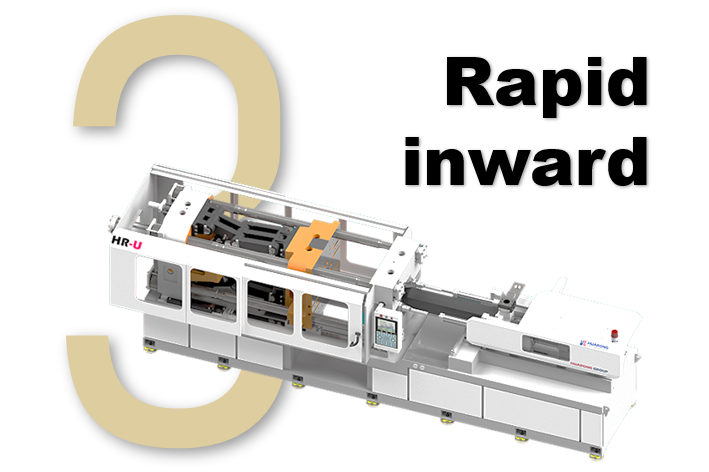 Machine: Rapid inward injection molding machine
Model: HRU300
Clamping force: 300 tons
New five-point toggle linkage mechanism has the advantages of long opening stroke and fast mold opening and closing speed. The speed can be increased by 15% and the stroke can be increased by 10%, increasing production capacity. Structural parts are all analyzed by Nastran In CAD to ensure the structure's safety and the stable and reliable operation of the machine.
New ship-shaped base injection system. Using the built-in slide design, the sliding surface can be fully lubricated to maintain the oil film, increase the sliding efficiency, the injection action is stable and easy to maintain, and the ship-shaped base makes the overall structure stable and rigid, and the deformation is reduced by 65%. The contact force of the nozzle is transmitted directly, which reduces the deformation of the injection double cylinder and effectively prevents the nozzle from leaking.
4. Composited Injection Blow Molding Machine: HRIB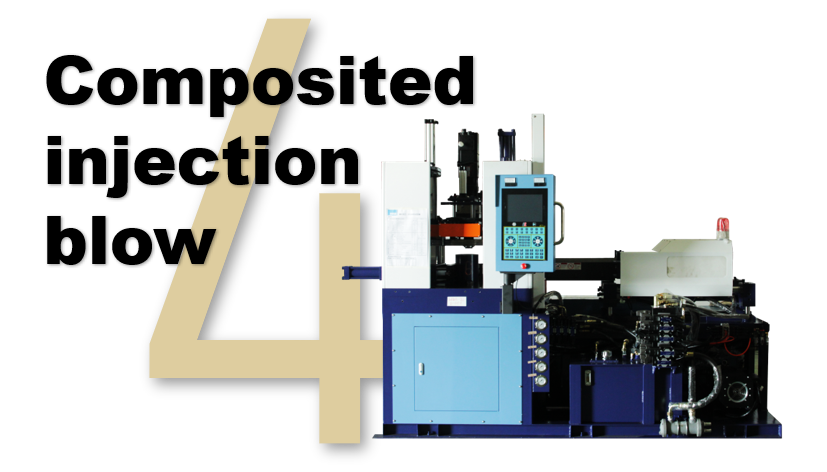 Machine: Composited Injection Blow Molding Machine
Model: HRIB-25
Clamping force: 25 tons
Break through the possibility of vertical injection molding machine in injection production, integrate the advantages of multi-station rotary vertical injection molding machine and add the composite functions of other stations, HUARONG launch composited injection blow molding machine to meet all customer's customized design needs.
Compared with the separated injection and blow molding into two machines, this composited injection blow molding machine could complete processing, manufacturing, and production with one machine, which occupies a small space and is complete in one step without secondary heating.
Moreover, it equips with a four-station servo rotary table structure and a direct-drive servo system. The rotary table system has a reproducibility of 99.9% up of the rotation position. In addition, it can change the mold cores easily which reduces the mold change time by 60% and the mold make cost by 80%. It's ideal for producing various styles and small quantities of products.

5. Multiple Embedded Rotary Injection Molding Machine: YR Series
Machine: Multiple Embedded Rotary Injection Molding Machine
Model: YR-40-3R2
Clamping force: 40 tons
Vertical clamping with vertical injection.
Rotary table oscillate 180°, rotate back / forth for easy loading and finished parts pick out, to increase productivity.
Rotary table with location pin, accurate positioning for mold alignment and automation.
Robot interface capability for complete automation.
Standardized with 2-station function, and capable for 3-station or 4-station function & automation linkup for advanced efficiency.
Standardized with 3-columns clamp, and available for 4-columns clamping upon request.

6. Vertical tie-bar-less Rubber: Y CM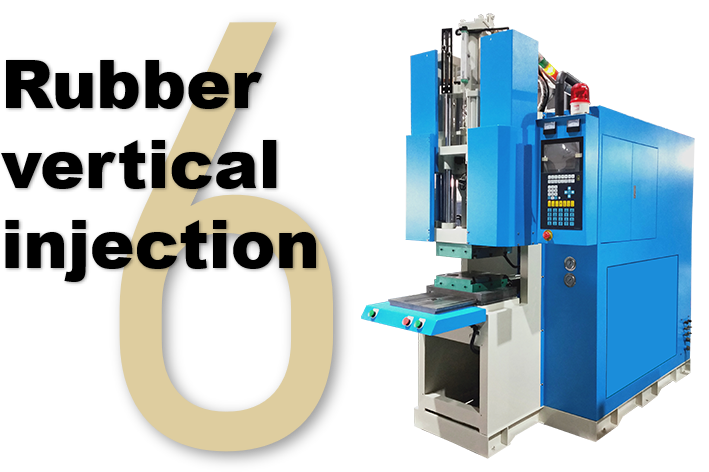 Machine: Vertical tie-bar-less Rubber injection molding machine
Model: Y CM-30-L1S-ZS
Clamping force: 30 tons
Piston injection injects the material into the mold, which has the advantage of high dimensional accuracy, less edge material, and short cycle time.
The column-free design provides a larger operating space for larger inserts.
The operation method is simple, and the operating mode us ergonomic and the height of the operating plane is controlled at 74~140cm above the ground, which can save the labor demand of the operator.
The body structure is theoretically calculated by the R&D team, and is combined with high-order finite element analysis software (Nastran in CAD) for strength analysis.

If you want to know more about Huarong injection molding machines, why not experience it in person?
9/27 Taipei Nangang Exhibition Center, Hall 1, Huarong booth J0617, can't wait to see you there!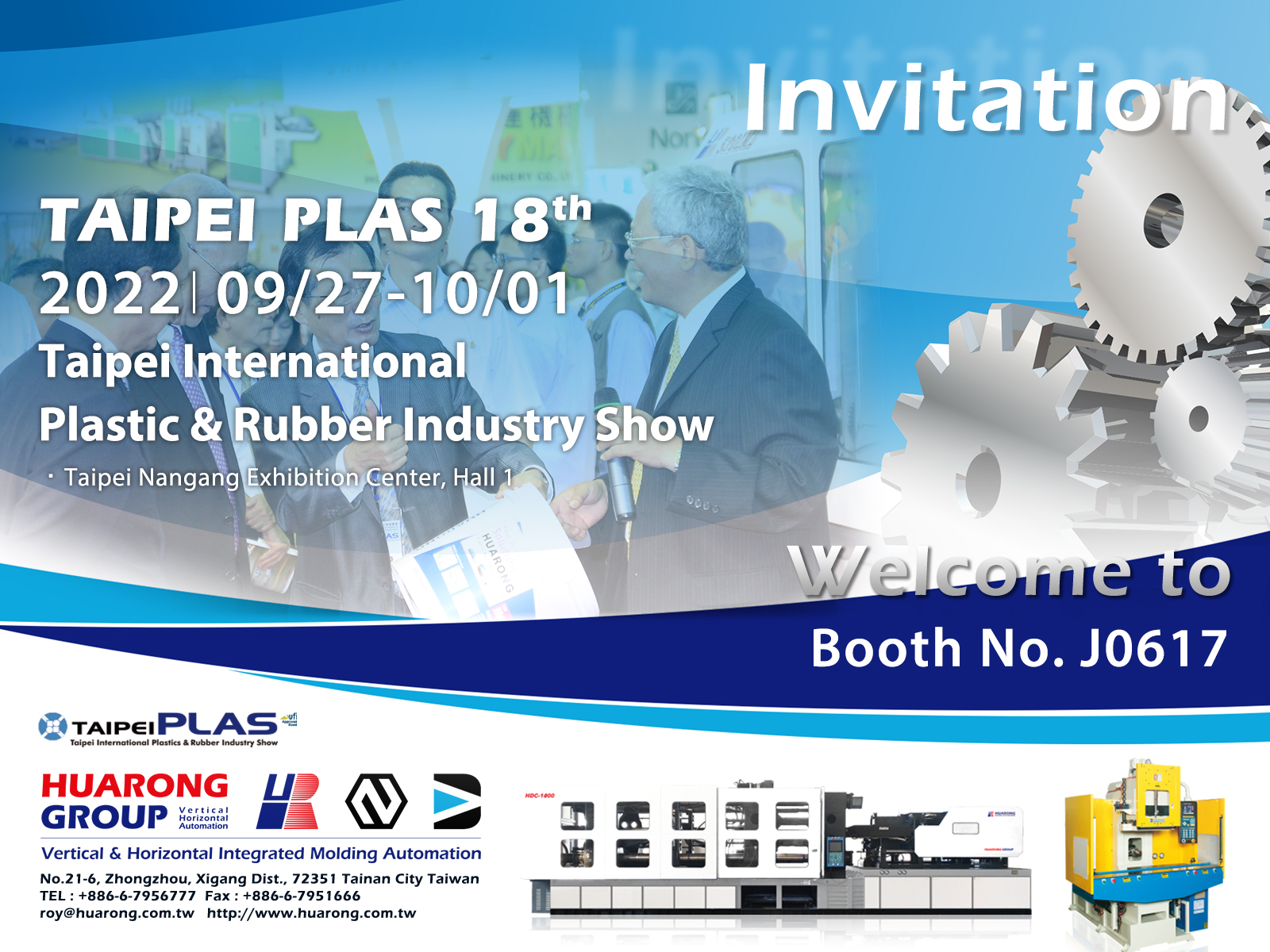 Floor plan of TaipeiPLAS:
TaipeiPLAS booth information:
Huarong in TaipeiPLAS
Booth No : J0617
Taipei Nangang Exhibition Center, Hall 1
Best regards, Ryan Shiao
Tel: +886-6-7956777 #611