Two-Platen Injection Molding Machine Obtained Patent Certification to Provide Better Machine
2023-01-10 14:08:49
---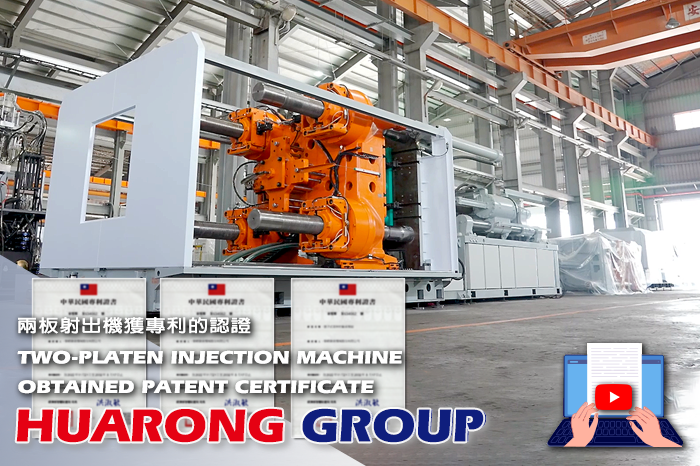 ---
Two-platen injection molding machine is high-profile in the industry
Following last year's TaipeiPlas, Huarong Group exhibited six different elite plastic injection machines, attracting many people from the industry to visit, especially the "two-platen injection molding machine (two-platen injection machine)" featured at the exhibition for its advantages such as small space occupation, large mold opening stroke, precise clamping force, and rapid start-up.
Optimize the new technology in the two-platen injection molding machine and obtain patent certification
Huarong's "two-platen injection molding machine" is precise, reliable, sturdy, and cost-effective. At the end of last year, Huarong further optimized the "two-platen injection molding machine", effectively reducing the use of materials by 35% and reducing the environmental load, the pursuit of maximizing resource efficiency and adjusting the machine price to give back to customers. In addition, customers are more convenient in maintenance, reducing production and space constraints.
The difference between the two-platen injection molding machine and the three-platen injection molding machine lies in the clamping system. To provide a better machine, Huarong further analyzed the clamping system of the two-platen machine, aiming at reducing errors and prolonging the machine's service life. Huarong conceived to optimize the positioning device and assembly operation method. Make the machine no longer need people to correct the micro-imbalance problem after the machine assembly and design the positioning assembly module.
In addition, combined with the customer's feedback, Huarong designed the supporting sliding module with an inner limit to increase the longitude to ensure reliability, maintainability, and safety. The relevant technologies have been submitted for patents, and the certifications were obtained in January 2023 and obtained relevant patent certificates.
Two-platen Clamping Patent:
Suspended tie bars bearing module (patent number M634662)
Supporting sliding module with an inner limit design (patent number M578643)
Two-platen clamping positioning device for 100% assembly accuracy without manual correction (patent number M636571)
Huarong is your good injection molding partner
Huarong consistently implements the core value of "Industrial alliances to create value. Innovative services and high-quality services to support customers" to create more diverse machines and services for customers. In addition to the professional manufacturing experience that provides you with horizontal, vertical, and multi-shot injection molding machines. Huarong can also assist in intelligent production that plans fully automated production lines for injection molding or injection blow molding for customers to improve production. Its efficiency reduces direct labor costs and allows customers to produce and manage efficiently.
It is a great honor for Huarong to form an alliance with you and become your injection molding partner. Huarong will create high value with you!
Two-plate injection machine video
▶️Video highlights
Huarong, at the 2022 K fair, participated in the webinar to express the latest two-plate injection machine to customers.
(Note: In addition to the two-platen injection molding machine, the video also has the injection blow molding machine)
Machine model | Two-platen machine - NRH series
YouTube:

Previous news: How to Produce a High Quality Dental Flosser / Interdental Brush
Next news:How the Production of Headphone Outer Cases Works? - Injection Machine