Case Studies: Successful Implementation of Automation Solutions in Injection Molding
2023-04-12 16:05:09
---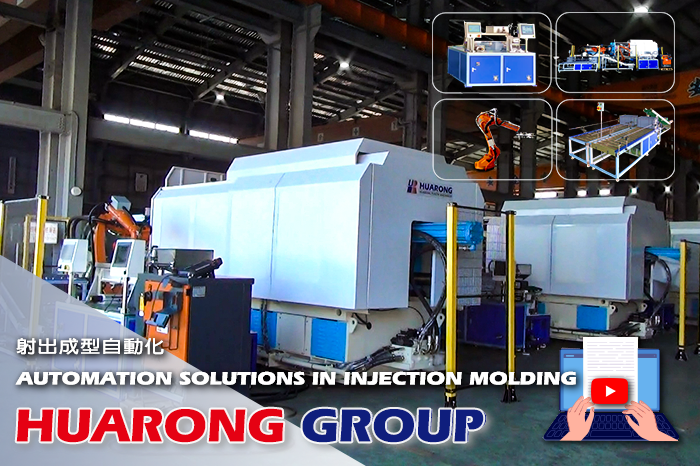 ---
Implementing Automation in Your Manufacturing Process
As mentioned in the previous article, Injection Molding Machine: Key to Precision Manufacturing of Automotive Parts, in the automotive industry, many materials of automotive parts are gradually changing to plastic due to the pursuit of lightweight features, cost considerations, and fuel consumption savings. Using servo injection molding machines with high responsiveness, high reproducibility, and stable control can have excellent performance in producing automotive plastic parts with increased complexity.
As the automotive industry continues to grow, automation has become essential in the parts manufacturing process to improve efficiency and productivity. Implementing automation in injection molding is numerous, including reducing errors and saving time by automating material handling, assembly, and quality control tasks to increase efficiency and reduce labor costs. Additionally, automation can help optimize production processes, improve product quality and speed up turnaround times.
This case study will explore how one automotive plastic parts manufacturer successfully implemented automation solutions to achieve a fully automated production process.
Challenges for Plastic Auto Parts Manufacturing
The automotive parts manufacturer faced the challenge of meeting the increasing demand for high-quality plastic parts and improving production efficiency while lacking manpower. Many precision parts in automotive parts need to be inserted before production. Most automotive parts manufacturers use vertical injection machines with a horizontal surface, which is convenient for manually placing inserted iron parts and locking screws.
But one person can only perform one action. When the mold has many cavities, multiple people must act together to keep production efficient, preventing longer lead times, but higher production costs. Therefore, the manufacturer recognized the need for a more efficient and cost-effective solution: automation implementation.
Benefits of Full Automation for Plastic Auto Parts Manufacturing
The manufacturer partnered with Huarong Group to provide an automation solution to integrate automation into their injection molding process. The solution included the installation of injection molding machines, peripheral equipment, and robotic arms to achieve a fully automated production line. Huarong Group designed a customized solution to handle the entire production process, from material handling to assembly and quality control.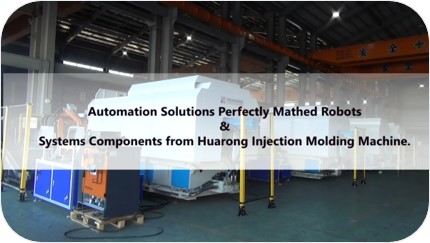 There are numerous benefits of full automation for plastic auto parts manufacturing.
The first benefit of full automation is consistent quality in the plastic parts produced.
Automated processes ensure precise and repeatable production of complex-shaped plastic products, eliminating human error and reducing defective products. The high-quality production achieved with automation also ensures the reliability and durability of products, ultimately providing better product experiences for end-users. This consistent quality standard and high efficiency of production help manufacturers maintain a competitive edge in the market.
The second benefit of full automation is reduced labor costs and increased efficiency, resulting in cost savings.
Automated processes can plan and synchronize various tasks, including material handling, assembly, and quality control, eliminating the need for manual labor intervention in the production line. This reduces the number of required workers, improves overall efficiency, and lowers labor costs. In manual production, these tasks require significant human effort and time, for instance, manual assembly of different parts. Automation solutions, integrating injection molding machines, peripheral equipment, and robots, can complete these tasks in a short time while maintaining higher precision and quality, reducing the scrap rate and defect rate, and improving production efficiency and product quality.
The third benefit of full automation is optimizing the manufacturing process to increase productivity and reduce turnover time.
Automated tasks such as material handling, assembly, and quality control can simplify the production process and reduce the time required for each part's production. Real-time monitoring and data collection from fully automated production can be used to identify areas that need further optimization and improvement in the manufacturing process. This additional enhances productivity, reduces turnover time, and allows manufacturers to quickly deliver high-quality products to customers.

Partnering with an Expert in Full Automation
The successful implementation of automation solutions in injection molding allowed the manufacturer to achieve a fully automated production process, resulting in improved product quality, increased efficiency, and reduced labor costs. By eliminating manual labor, the production line could operate 24/7, significantly reducing lead times and increasing productivity. The automated system also improved product consistency and reduced the number of defective parts, resulting in higher customer satisfaction.
The manufacturer's investment in automation solutions allowed them to meet the increasing demand for high-quality plastic parts and helped them stay competitive in the market. With a fully automated production process, they could offer faster turnaround times and competitive pricing, leading to increased customer orders and revenue.
Partnering with Huarong Group means meeting all your injection molding needs. With over 40 years of experience in injection molding machines, Huarong Group is an expert in the manufacturing and R&D of plastic injection machines. Our philosophy of "pursuing innovation and high quality, industry alliances and creating value," has led us to continuously invest in R&D and collaborate with various industries to create more customer value. Huarong Group offers excellent injection machines for vertical, horizontal, and multi-shot injection applications, and automation integration for innovative production transformation. We also provide exceptional service and support, including training and assistance, ensuring customers get the maximum return on their investment.
Automation of Automotive Parts Production
▶️Video highlights
Industry | Automotive Industry
Part | Car window clamp
Plastic | PBT
Machine | General injection molding machine – HRN series
Clamping | 520 ton
Automation | Robot Arm + Vibratory Feeder+Conveyor
Youtube:

Previous news: Injection Molding Machine: Key to Precision Manufacturing of Automotive Parts
Next news:Application of Energy-Saving Technology in Injection Molding Machines Achieves the "Net Zero Emissio