HUARONG is honored with the 2024 Taiwan Excellence Award!
2023-11-02 16:35:13
---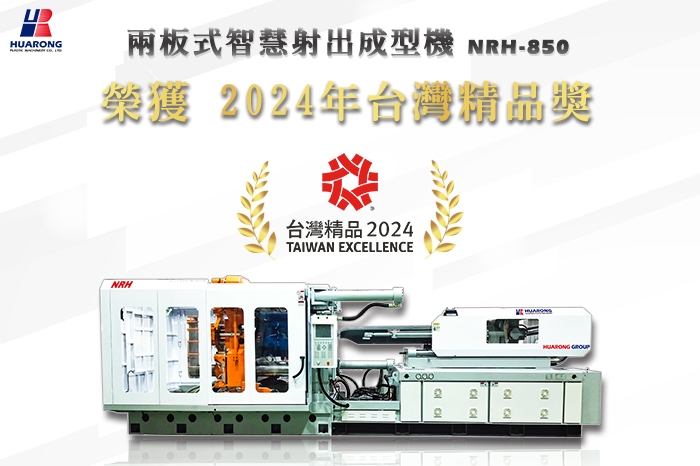 ---
HUARONG is thrilled to announce that our product, "Two-platen intelligent injection molding machine NRH-850", has been honored with the Taiwan Excellence Award. This recognition signifies our commitment to outstanding quality and innovative design.
The Taiwan Excellence Awards were established by the Ministry of Economic Affairs in 1993. Every year, eligible candidates are subjected to a rigorous and stringent selection system that covers four major aspects of "R&D", "Design", "Quality" and "Marketing" to identify outstanding products that offer "Innovative Value" while satisfying the key criterion of being "made in Taiwan". Products that have been selected for the Taiwan Excellence Awards would serve as examples of the domestic industries and be promoted by the government in the international market in an effort to shape the creative image for Taiwanese businesses.
The award for "Two-platen intelligent injection molding machine" highlights our company's exceptional performance in product innovation and quality management. It also solidifies our position in the injection molding machine industry, showcasing our relentless efforts to provide excellent products and services to our customers. We will continue to leverage this achievement as motivation, striving to drive product innovation and enhance customer experiences, bringing more high-quality products to the market.
• For further inquiries or more information, please visit our website: https://www.huarong.com.tw/home/lang/en/
• 2024 Taiwan Excellence Award: https://www.taiwanexcellence.org/en/award/product/1130078
The product introduction of the "Two-platen intelligent injection molding machine" is as follows:
This product has the breakaway function of the tie bar, which can make the height-limited plant overcome the inconvenience of loading upper and lower molds.

This product has an independent detection function. Then, the user can set the error range in accordance with the production requirements, and a total of 13 parameters can be automatically compared and monitored during the production process.

This product complaint with the need for smart machinery, which collects parameters, monitors production status in real time, and supports wired and wireless transmission.

Equipped with the suspension bearing module (patent no. M634662) for tie bar support, which can reduce frictional energy loss and effectively improve the natural sagging of the tie bar.

Equipped with the inner sliding module (patent no. 578643) and the positioning device of the injection molding machine (patent no. 578643) are used to assemble the sliding components rapidly and positioned them accurately.

Previous news : Customer Success Story : View Max Industrial Co., Ltd.