Customer Success Story : View Max Industrial Co., Ltd.
2023-08-18 16:14:54
---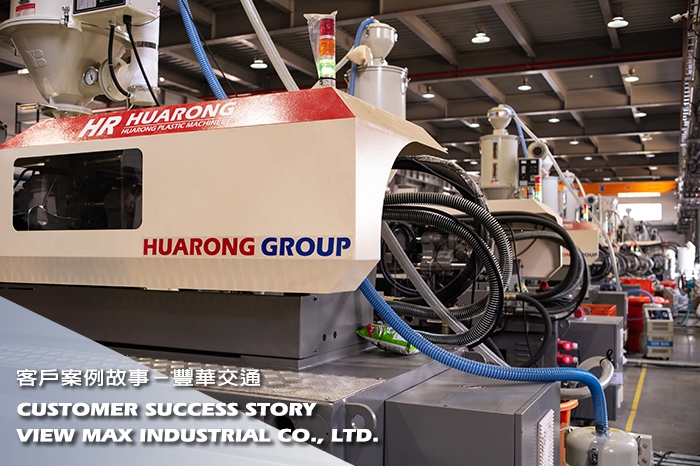 ---
"Quality-Innovation & Industry-Alliance" has always been Huarong's core philosophy. Each injection molding machine manufactured by Huarong carries the mission of creating profit and value for customers. The key to Huarong's success lies in co-creating value with customers, a vision championed by Chairman Xiao, emphasizing long-term customer partnerships.
VIEW MAX INDUSTRIAL CO., LTD. – Leading in the Automotive Rearview Mirror Aftermarket
Established in 1992, View Max Industrial Co., Ltd. is a manufacturer of automotive rearview mirrors, primarily engaged in export. 95% of its products are sold to European countries. For years, the company has maintained consistent product quality and offered a comprehensive product line. Currently, View Max holds a leading position in the automotive rearview mirror aftermarket, with all products meeting ECE certification or specific certification requirements for various sales markets.
Huarong Injection Molding Machines – Meeting All Injection Needs
In a fiercely competitive market, the value of partnerships is invaluable. The entire plant of View Max uses Huarong horizontal injection molding machines - HRN series, ranging from 100 to over 600 tons, equipped with servo motors. These machines produce various automotive rearview mirror components, supplemented by Huarong's Smart Factory Management, HFM, which provides real-time production insights and data management. This enhances capacity efficiency and competitive advantage.
In particular, all the injection machines in View Max factory are mirrored injection molding machines customized by Huarong according to the production needs of customers. The mirrored injection molding machine is to make the equipment in reverse according to the original appearance. In addition to the advantages of the existing machine, this design allows operators to simultaneously handle two machines from a fixed point during production, effectively doubling production efficiency. Mirrored injection molding machines can be tailored to specific requirements, a design feature available for all Huarong machines.
Why Choose Huarong Injection Molding Machines Among Many Brands?
"Fast service, professional team, tailored solutions, reasonable pricing, flexibility, and innovation" – as stated by Director Caspar of View Max's R&D department – stability and cost-effectiveness during production are crucial in plastic injection molding. Notably, the design of servo motors offers low operational noise, energy efficiency, and cost-effective maintenance – reasons why Huarong remains their trusted choice.
One of Huarong's proud features is assisting customers in customizing equipment for their specific needs. Huarong's professional team meets the needs of customers and builds exclusive mirrored injection molding machines for View Max to maintain the consistency of factory layout and smooth arrangement of traffic flow. Back to the machines, Manager Xu emphasizes that clamping unit size and screw quality are the key factor for plastic injection for the production material, the weight, and thickness of the product. The HRN series used in View Max factory are toggle-type injection molding machine, known for their broad applicability and is suitable for the production of most plastic products. The machine structure is professionally analyzed by computer, and it is sturdy and durable. From injection, clamping to power system, every component has undergone strict quality assurance to ensure accurate assembly.
Regarding the decision to use Huarong injection molding machines across the factory, Manager Xu explains that their pre-discussion with Huarong led to convenient and stable operations during mass production, allowing operators to familiarize themselves with the machine's performance. Uniform machinery ensures stable control, flexibility, and operational adjustment during high-load production.
After-sales Services and Smart Factory Management Enhance Customer Value
Huarong's sales service team is in close contact with customers, actively discussing and making suggestions with View Max from pre-sales, and making improvements in the second and third machine purchases according to the customer's experience feedback so that the operation of the machine is closer to the customer's convenience. When a situation occurs, professional technicians can quickly arrive at the scene to eliminate abnormalities, and minimize downtime and cost wastage.
Huarong's progress has not only stopped at the injection molding machine. Apart from meeting basic injection molding needs, Huarong offers turn-key solutions to meet all machine production requirements. The Smart Factory Management HFM is one of the value-added services, that connect ERP systems to real-time production data. In addition to the timely control of the production management department, when the management supervisor is not in the company, they can also directly view the on-site operation status through the mobile or computer, and make the most timely arrangement and plan, or deal with abnormal countermeasures.
Quality-Innovation & Industry-Alliance
For over 30 years, View Max has grown alongside its customers, actively meeting their needs for mutually beneficial business. Similarly, Huarong is honored to partner with View Max Industrial Co., Ltd., holding the philosophy of "Quality-Innovation & Industry-Alliance," contributing to greater value creation while rooted in Taiwan.
YouTube:

Previous news : The Process of Key Role for Warehousing: Plastic Pallet Injection Molding
Next news:HUARONG is honored with the 2024 Taiwan Excellence Award!