Break the stereotype of dual injection design and break through possibility of dual-shot production
2022-04-21 17:57:05
---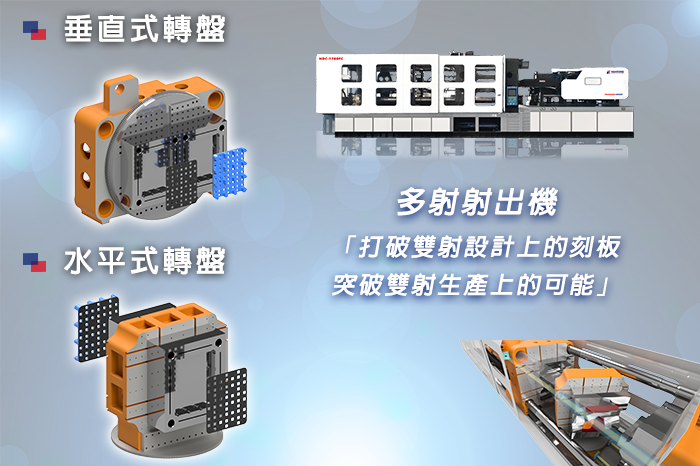 ---
Huarong's experience in dual injection machines is complete and mature, as long as customers have any special needs, including automation integration, we can meet all customers' needs for injection. Below we will take automotive lighting as an example to show you how Huarong challenges innovation.
Global Automotive Lighting Market Expected to Reach $42.87 Billion
According to GLOBE NEWSWIRE, the global automotive lighting market reached a value of US$ 28.41 Billion in 2021. Looking forward, the market is expected to reach a value of US$ 42.87 Billion by 2027 exhibiting a CAGR of 6.70% during 2022-2027. With the rise of environmental awareness, electric vehicles such as Tesla and other manufacturers have risen. Combining new technologies with automotive components is a better way that can respond to rapidly changing technological trends.
While COVID-19 has created market uncertainty, the importance of cars in the world cannot be denied. With the development in recent years, there is not much difference in the transmittance or brightness of white LED lights, but if you only want to take advantage of the price, there is no way to stand out in the market.
How to develop automotive lighting products that take into account creativity and quality is the key to future success
"The first thing consumers see is the headlights. This is a very important element." Xu Zhibo said.
DEPO President's Special Assistant—Taiwan Automotive Lighting Manufacturer
Two-color, multi-color and intelligent LED lights are increasingly becoming a market trend. Some car manufacturers and electric vehicle startups are also developing interior and exterior automotive lighting with cool visual effects, adding beauty to the car.
A dual injection machine that breaks the stereotype of automotive lighting design and breaks through the possibility of production
In order to impress car owners to meet more car usage scenarios, the core of advantages lies in the diversity of car lamp designs such as one lamp with two colors and one lamp with multiple functions. Mold development is a major focus, but how to cooperate with mold production, and even improve production efficiency, stable production and Consolidating product quality is also the focus of enhancing industrial competitiveness and creating advantages.
Huarong's dual injection machine HDC series not only has a patented rotary table design, which ensures that the rotary table will never fall; on the other hand, the integrity of Huarong's injection machine models enables the injection machine to be customized. In addition to the horizontal injection, vertical injection and multi-shot freedom in the injection unit, there is also a degree of freedom in the way of rotating the rotary table under the two-color mold.
The horizontal rotary table with multi-shot, the production efficiency is doubled

The configuration of multi-shot injection molding machine is not simply the combination of two horizontal units, but integrates multiple technologies such as horizontal injection machine, vertical injection machine, dual injection machine, vertical rotary table and horizontal rotary table to meet the needs of the two-color machine market. And taking the horizontal rotary table multi-shot injection machine as an example, it can produce two sets of molds at the same time, making the production more flexible and cost-effective.
COVID-19 has accelerated the development of automation, and Huarong will face you together
Facing the changes in the general environment, Huarong will face it together with customers. We can do total solution for you. The whole factory introduce Huarong's HRB servo manipulator, HFM Factory Management Platform, etc., to build the vision of a 24-hour unmanned intelligent factory.
After the secondary injection molding of the automotive lighting, it is often used with the manipulator to take them out. At this time, the HRB Servo Telescopic manipulator of Huarong can be purchased. The upper and lower speed is fast, and the upper and lower double-section structure is short, which can be used for inserts before molding and secondary processing after the finished product is taken out.
In the current environment of high costs, HFM intelligent platform helps customers to effectively improve production efficiency, control production line conditions and improve customers' competitive advantages. The introduction of HFM, in addition to recording the production status, further focuses on the subsequent import of data back to ERP, actuating production costs, and reducing the consumption of plastic materials. Reducing unnecessary increases in gross profit and in the case of relatively limited manpower, more efficient operation is the focus of HFM research and development.
Features of Huarong's Dual injection machines - HDC series
1. Patented design for rotary table.
2. External gearing for rapidity and accuracy.
3. Optional servomotor-drive rotation.
4. Optional extra T-type/L-type injection.
5. Optional tri-injection.
For details, please click → Dual injection machines - HDC series

HDC has a multi-shot unit that can produce multi-color or multi-plastic products, which can be completed at one time without secondary processing, saving time and increasing production, and can be matched with horizontal injection or vertical injection according to customer needs. Huarong constantly pursues innovation and wants to create the greatest value of cooperation with customers. No matter what kind of dream you have about injection molding and automation, Huarong will definitely help you realize it.